I have waited bit of a time to finally install a document viewer which would open documents (especially PDFs) and would sense iPhone's rotating to take advantage of it's larger reading horizontal line.
WildEyes! application didn't seem a very good option since it also wanted:
- lighthttpd - a lightweight http server/daemon
- Safari file:// patch
So, right on time Boss created an alternative Docs application. It didn't require lighthttpd, but:
- it required Safari file:// patch
- from the Installer repository XML, only version 1.3 and 1.4 are supported to install
So, it left only with the manual option.
1. Downloaded Boss repository XML.
2. In the XML from above, found and manually downloaded Docs 1.14 zip.
3. Unzip the above archive Docs.app into /Application folder on your iPhone (use WinScp or alike as you prefer).
4. For some reason, in the Tweaks categories are present only MobileSafari file:// patches for 1.1.1, 1.1.3 and 1.1.3 - WTF?! 1.1.2 is not a humble human or what?
5. Anyhow, some good people followed George Zhu's blog and created a 1.1.2 patch version for MobileSafari. Download here - http://rapid$hare.com/files/95711418/MobileSafari.html. Found on this forum.
6. In /Applications folder of your iPhone, find MobileSafari.app. Inside, find MobileSafar binary executable file. Make a backup of it (on iPhone or on your local PC) and then put in MobileSafari.app the one from the archive downloaded above at point 5.
7. Enjoy your reading! Knowledge is light

…
Here are some screenshots:
- happy one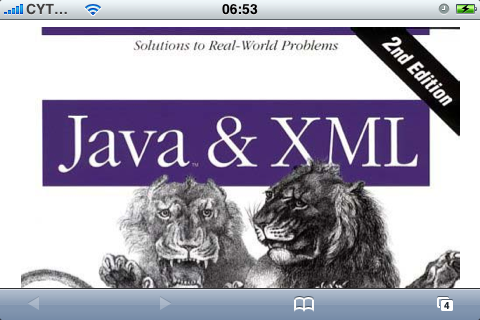 iPhone Docs Safari 1.1.2 patched - PDF loaded
- fuck it - now you have to split some nice PDFs in chunks…


iPhone Docs Safari 1.1.2 patched - page too large