Hybrid++ car concept - fuel, electric and bicycles/dynamos
During a coffee break, this idea came to my mind. Thought to post rather than throw it to brain-garbage.
Here is the concept of a hybrid car concept - fuel, electric and bicycles/dynamos - all in the name of so pushed greener and healthier tomorrow…
Idea is simple - why not having "pluginable" seats for electric cars, where bicycles/dynamo machines can be used with a two-fold purpose - get yourself fit (while husband/wife drives you to work) and at the same time charge your car so that you burn your green electricity later when needed?
The type of the bicycle/dynamo machine can be whatever - the ones I have included appealed more to me and seemed more compact. Also, conceptually seems it would be more suitable for SUV type of cars or normal cars with enough height and legroom.
Yes, it requires lots of design, human interface research, safety research/testing, but I truly believe it's doable

(incurable tech-junk dreamer of what I am…)
UPDATE: Vladimir is requesting his 15% of credits for the idea, because it was a group coffee break and because he suggested the feet/hands adjustable bicycles, i.e. dynamos can be lowered (for feet-bicycling exercise) or raised (for hand-bicycling exercise). So here it is - "some credits also go to Vladimir"

. So whoever monetizes on this idea, please note that Vladimir is expecting royalties as well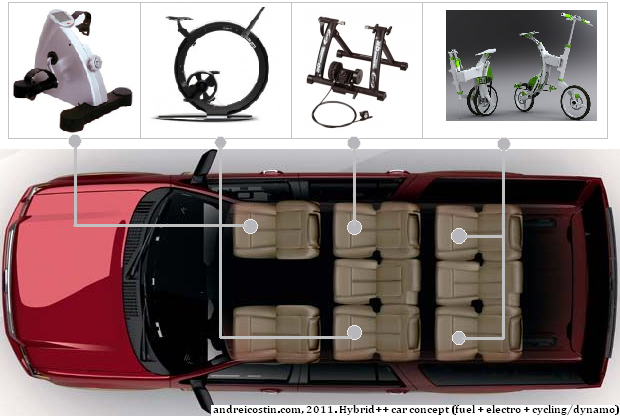 Hybrid++ car concept - Fuel, electricity + "pluginable" bicycling/dynamo.
Tags: hybrid car fuel electric electro velo bicycle dynamo powered plugginable seats