Sweet Moldavian shot
Well, I have tried in the past Irish Flag and other layered shots like B52, etc.
However, I wanted something more to my MoldoRomanian soul-and-heart.
Few weeks this bothered my mind in the background… And finally yesterday, during drinks color-solubility-density-taste experiments with Igor, we have found the layering formula of some selected drinks. If you played with cocktails and shots on your own, you might have noticed that drinks' color, density, solubility and taste-class restrictions are quite hard for a layered drink, especially when you have a strict pattern of color.
Today, I have tried to produce the first public version and it went pretty well I can say - the taste and the look are lovely!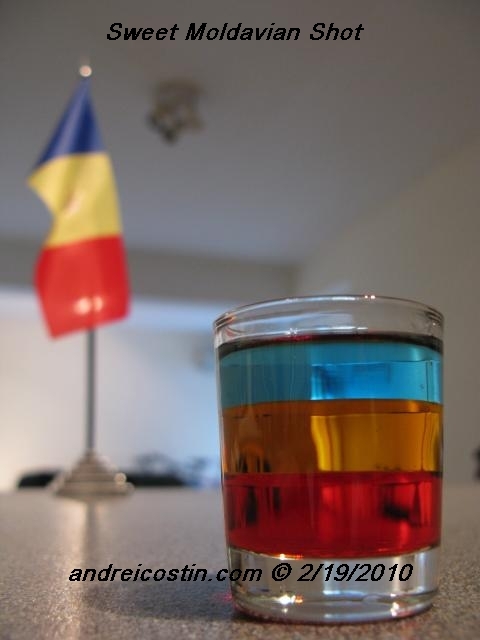 Sweet Moldavian shot
Enjoy (responsibly)!
Sweet Moldavian recipe:
1 shot glass
1/3 Grenadine Sweet Syrup
1/3 Amaretto Almond Liquor
1/3 Vodka
Few drops of Curacao Blue Liquor
Instructions:
First add the layer of Grenadine Sweet Syrup to the bottom of the shot glass.
Then, using the back of a small coffee spoon, layer gently the Amaretto Almond Liquor on top of Grenadine Sweet Syrup.
Use a temporary recipient for Vodka part. In that temporary recipient make few drops of Curacao Blue Liquor into Vodka and then stir until all Curacao drops dissolve in Vodka and Vodka looks blueish (Tip: I use a straw as a pippet to take few drops and then stir Vodka with that straw).
Then, using the back of a small coffee spoon, layer gently the blueish Vodka&Curacao mix on top of Amaretto Almond Liquor.
That's it. Enjoy!
Achtung - not recommended more than two shots, since Vodka and Liquors are not very good friends in high quantities !
Can be enjoyed (depending on taste and preference):
as a classic shot
as a reverse shot - dip the straw to the bottom of the glass and drink
as flaming shot (general caution for fire shots should be taken!) - fire Vodka on top, then dip the straw to the bottom and drink in one go without extra/convulsive breathing
Complexity to prepare is low.
Price of the drink is low-to-medium (depends which Vodka and Amaretto you use).
Taste:
medium sweet, given the 3 sweet ingredients - amaretto almond liquor, curacao liquor, grenadine sweet syrup
smooth - all the ingredients are smooth drinks, well vodka is not necessarily, but curacao solution it is
starting with vodka&curacao neutral-to-alcohol taste, then almond demi-sweet taste comes and all finishes with the excellent grenadine sweet liquor taste